Mobile Payments Win the Popular Vote
The Apps Have It... or some of the Apps Have It
In this election week, with a focus on voting, news from Starbucks validates that consumers are increasingly voting in favor of contactless payments via mobile apps.
Starbucks recently revealed that close to 25% of all retail orders in the U.S. are now placed via the Starbucks mobile app.
As an early leader in mobile payments, Starbucks is now reaping the benefits of offering convenience to its customers via its mobile app. Starbucks initially introduced its Mobile Order and Pay app in 2015 and has seen usage grow steadily since launch. In 2020, with consumers looking to minimize time in stores, and follow social distancing protocols, the usage of mobile payments via the Starbucks apps has skyrocketed. As reported in October 2020 by Starbucks, in the Starbucks Card, Loyalty & Mobile Dashboard, the number of mobile orders placed in Q4 has grown from 16% to 24% year over year.
What can retailers and restaurants learn from Starbucks?
While mobile payments are not new, the 2020 pandemic has accelerated the urgency of adopting contactless payment methods to respond to changing consumer preferences. Starbucks may have led the restaurant retail industry with its adoption of mobile payment methods, however all major retailers, restaurants and food delivery companies now have the opportunity and urgency to add payment capabilities to their apps to meet consumer demand.
Even before the health crisis of COVID-19, mobile payments were projected to surpass credit cards and cash for point of sales transactions by 2021, according to the 2019 Mobile Payments Market – Growth, Trends, and Forecast (2020-2025) report by Mordor Intelligence. And it is not only the digital payment apps, such as Apple Pay, and Google Pay that are poised to reap the growth in mobile payments, as evidenced by the growth of usage of the Starbucks app. Retailers and restaurants also stand to benefit by adding mobile payment options within their apps.
The popularity of QR-code contactless payment methods also presents an opportunity for retailers to quickly add contactless payment capabilities without relying on NFC Point of Sale (POS) hardware or infrastructure. Adding payments capabilities to mobile apps opens up the opportunity for retailers and restaurants to add digital wallet capabilities and lower cost payment methods than offered by traditional credit cards.
Are mobile payments more susceptible to fraud?
For many consumers and merchants, mobile payments are new, and with the distractions of a global pandemic, fraudsters are seizing every opportunity for fraud. Fraudsters follow the money, and mobile apps are just as vulnerable as online accounts to fraudulent activities. Fraud with mobile payments includes traditional techniques such as phishing, and account takeover and also new types of fraud associated with QR codes, including use of fake codes.
The good news is that mobile apps have a very strong fraud detection signal and that is location behavior.
Particularly for point of sale transactions, location intelligence can confirm whether a customer is actually in the store at the time of purchase or if a fraudster is using stolen credentials to make fraudulent purchases via the app. For QR-code transactions, location intelligence can confirm whether the QR code is associated with that particular merchant location is at risk of being a fake QR code.
As the the leader in fraud detection for mobile apps using location behavior, Incognia recently announced its fraud detection solution for contactless payments. Using network signals including bluetooth, GPS, and WI-FI and also on-device sensors Incognia is able to create a unique location fingerprint for each user based on their location behavior that is practically impossible for a fraudster to copy, fake or mimic.
Contactless payments get the votes from consumers
2020 has been a year of digital transformation with many new services coming to market. When the votes are counted, contactless payments will definitely have won the popular vote with consumers.
To learn more about QR Code Contactless Payments download our free ebook: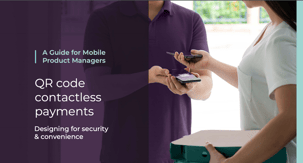 ______________________________
For more information on how Incognia uses location intelligence to protect mobile payments please visit our contactless payments solution page.

Paula Skokowski
Chief Marketing Officer