Retail Mobile App Ranking [Checkout Friction Index]
New Incognia Mobile App Study ranks Lowe's, Home Depot, Bed, Bath & Beyond, and Sephora winners for lowest mCommerce checkout friction.
The transformation of how customers are purchasing products is one of the biggest changes in consumer behavior resulting from living through a global pandemic. With restricted access to physical stores and social distancing, consumers have looked to online purchasing and mobile apps to fill the gaps.
Our second Incognia Mobile App Report for 2021 focusses on the checkout process comparing twelve of the most popular mCommerce apps, including Bed, Bath & Beyond, BestBuy, Costco, Hobby Lobby, Home Depot, JOANN, Lowe's, Sephora, Target, Ulta Beauty, Walmart, and Wayfair. For retail companies the purchasing experience is where the customer experience begins and also ends when the process is too complicated or creates too much friction. Checkout is also the point where fraud plays a major role.

The list of apps reviewed not only includes mobile apps from major retailers, but also apps for specialty retailers including beauty products and crafts & fabrics. We wanted to review the purchasing process across a selection of mCommerce apps representing different types of products and also sizes of user base.
Some of the results;
Buy online and pickup in store (BOPIS) was supported in more than 60% of the apps reviewed

in the study, showing how quickly retailers have adapted their mobile apps to support new consumer buying behaviors.

80% of the apps reviewed in this study supported PayPal for in-app payment, compared with 20% supporting Apple Pay.

Home improvement and craft & fabric apps delivered the fastest checkout times on mobile

, illustrating how retailers are removing the friction in market segments where sales have soared during the pandemic.
This report contains an analysis of the purchasing experience for each of the selected mCommerce mobile apps, including screenshots and a measurement of the steps involved in checkout. For this study we also evaluated the types of mobile payment and purchase options supported by the app, including pickup and delivery options.
The data from this analysis is used in the calculation of a checkout friction index, which provides a comparative measure of how easy, or difficult, the purchasing process is comparing different retail mobile apps. In addition to the quantitative analysis, there is also a qualitative analysis focused on the different methods used by the apps to manage the purchasing experience and the points of friction, including the different payment options supported by the app.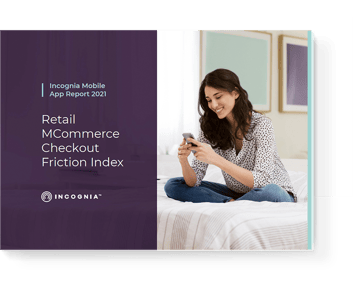 Download the report to see the full analysis and rankings.
________________________________________
The Incognia Mobile App Friction reports are a series of studies on mobile app friction.
Further reading: Incognia Fintech Mobile App Report on Onboarding Friction

Paula Skokowski
Chief Marketing Officer