Fintech Mobile App Friction Ranking [Login Authentication]
New Incognia Mobile App Study ranks Klover and eToro winners for lowest password reset friction
People in the US are spending more time on finance services mobile apps. When compared to 2019, time spent on fintech and mobile banking apps in 2020 was up by 90% in the U.S.. One might think that financial services companies are delivering a great mobile user experience, but that is not necessarily true. The pain of login authentication is still very much there for the majority of mobile apps.
[banner_1]
We recently launched our latest Mobile App Friction Report - Login Authentication & Password Reset edition, which focuses on how much friction financial service mobile apps present to their users at login. Incognia tested 27 mobile apps divided into two main categories: Banking / Financial Services and Investing / Trading.
A portion of the report focused on the friction associated with password reset, which seems particularly relevant given that 65% of Americans say they forget their passwords, and more than half say they have to execute at least five password resets every month. I'm definitely at the top end of the range for password resets per month.
Passwords are still, very much alive
Although passwords rank lowest for security and highest for friction, passwords are still the most widely used authentication method. 26 out of 27 mobile apps reviewed in the report still rely on passwords as the primary mode of authentication.
Since resetting passwords seems to be part of most Americans' lives, how much friction do users go through when resetting their passwords on financial service apps? The Incognia Password Reset Friction Index offers a vehicle to compare friction across apps.
The calculation of the index takes into account the number of screens presented to the mobile user, the number of fields the user has to fill in, and the amount of time needed to complete a password reset on the mobile app.
Lowest Password Reset Friction Index
The category winners for the financial service app with the lowest Password Reset Friction Index are:
Winner Banking / Financial Services - Klover

Winner Investment / Trading - eToro
The Klover app was the overall winner with the lowest Password Reset friction.
Here is the full list of tested mobile apps, with the Password Reset Friction Index rankings.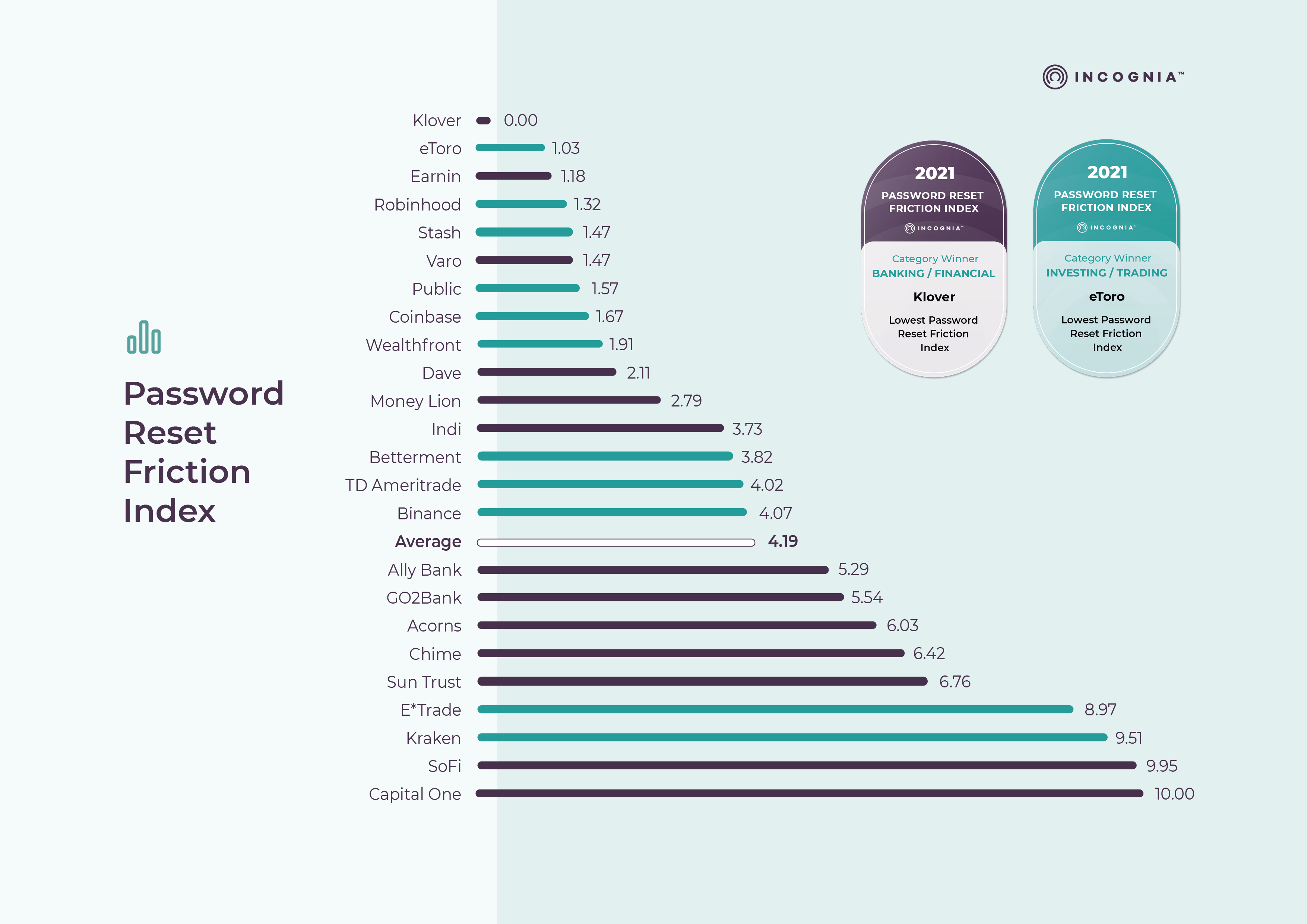 To read a full review and analysis of the login authentication methods for each app, download the full report here.

Paula Skokowski
Chief Marketing Officer