Swipe Left for Location Spoofing
Study of 24 leading dating Apps shows 37% can be location spoofed, threatening trust and safety for users
Incognia announced today the results of a new study on the state of location spoofing in dating apps in a new report entitled the 2022 Incognia Location Spoofing - Dating Edition. In this report, are the results from Incognia's review of 24 of the top dating apps worldwide, including Tinder, Bumble, Badoo, Match, Hinge, eHarmony, Grindr, Glambu, Happn, OkCupid, and Plenty of Fish.
The percentage of apps susceptible to even the easiest form of location spoofing, via the use of a free GPS spoofing app, is cause for alarm.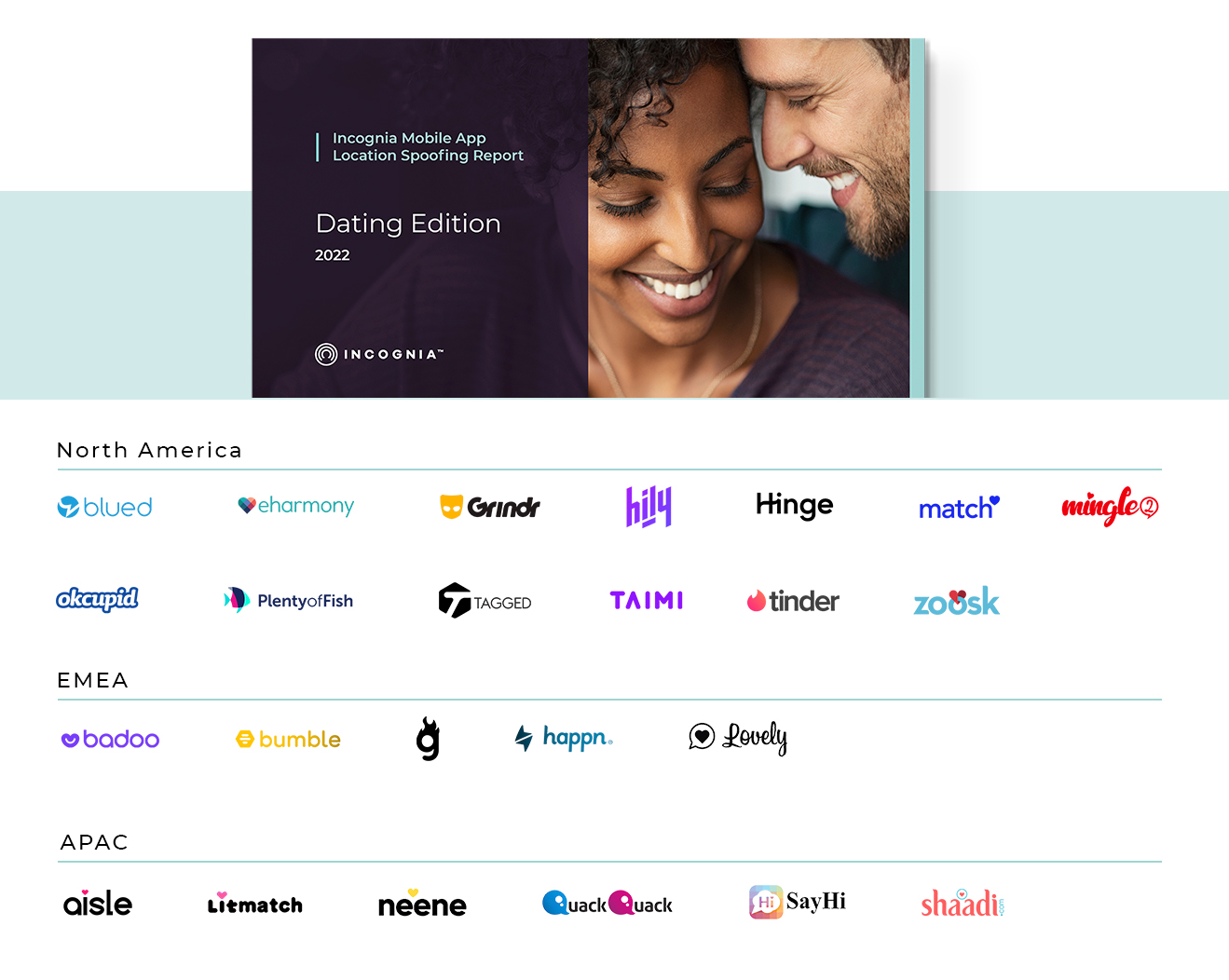 Today, dating apps are used by more than 323 million users worldwide and generated $5.61 billion in revenue in 2021. The U.S. is one of the major markets for dating apps with 53 million users and 3 out of 10 U.S. adults said they had used a dating app, according to a 2020 Pew Research study. In 2021, the most popular dating app was Tinder in the U.S. with over 80 million users, followed by Badoo, in Europe with 60 million users.
At the same time that users are looking for love using dating apps, fraudsters also have their eye on this growing opportunity. With easy access to location spoofing techniques and tools, fraudsters are exploiting social engineering to take advantage of dating apps to commit romance scams. The lack of location spoofing detection capabilities is an issue because it enables scammers to target users in any location. It also indicates that the apps are potentially not leveraging location as a trust signal. The Federal Trade Commission reported in 2021 romance scams reached $549 million in the U.S., up 80% from the prior year. Fraud on dating apps not only represents potential financial losses to individual users and the dating company but also represents a threat to user trust and safety.
Dating apps are increasingly providing location-based features to find potential suitors in close proximity. In some apps, it is possible to select a location to look for a date, perhaps in consideration of future planned travel.
In our Incognia study, we tested 24 of the leading dating apps around the world and we found that location plays a big role in finding a potential suitor.
80% of the tested apps requested the user to share location. None of the apps provided messaging that the user location was being used for fraud prevention.
37% of the apps that requested location could be easily GPS spoofed.
50% of the apps in North America and APAC could be GPS spoofed. Of the three APAC apps that were tested, two out of three could be GPS spoofed.
None of the tested apps from EMEA could be GPS spoofed.
The points in the user journey where the user location was requested and displayed varied, including display on a map, via city and country, and zip code.
Location shown as a point on a map

Example of user location displayed as a point on a map during user onboarding.

Location shown as a city and country

Example of user city and country being displayed during sign up.

Location shown as a zip code

Example of real-time user location shown as a zip code in the user profile.
The conclusion from the study is that using location and device intelligence for fraud prevention is a missed opportunity for dating apps. The percentage of apps susceptible to even the easiest form of location spoofing, via the use of a free GPS spoofing app, is cause for alarm. Trust and safety teams should be cracking down on users using fake locations since the use of location spoofing is a strong indicator that a user is looking for fraud not love. Location is a strong signal for fraud prevention and can be used to identify suspicious locations, like device farms, and to re-identify bad actors trying to create new fake accounts after they get banned.
To read a full review and analysis of the results from this study, please download the full report.
In support of trust and safety, Incognia is offering a complimentary location spoofing audit for companies offering a location-based mobile app. Learn more about the details of this audit.

Paula Skokowski
Chief Marketing Officer